Shanghai Haozhuang Instrument Co., Ltd. has developed the LNB brand snowflake ice machine, which is energy-saving and environmentally friendly, leading the country. Professional manufacturing is more secure and affordable. The laboratory-specific snowflake ice-making machine, the ice-making mechanism of the snowflake is ice-shaped, indefinite, fine-grained ice, which can penetrate into a narrow gap, rapid cooling, and good ice bath effect, suitable for laboratory use.

Snow ice machine performance 1) Adopt high-quality stainless steel shell, anti-corrosion and durable, independent integrated structure, compact and concise, save space.

2) The heat insulation layer of the cabinet is made of fluorine-free foam, which has good thermal insulation effect, and the inner tank is fluorine-free and bacteriostatic, energy-saving and environmentally friendly.

3) Adopt high-quality and high-efficiency R134a fluorine-free compressor, all the parts have been tested by SGS company and meet the requirements of EU RoHs environmental protection directive.

4) All electrical safety parts used have "TUV" or "VDE" safety certification, certified parts, safe and reliable.

5) The ice making process is controlled by full computer program, imported computer chip, reliable control and stable operation.

6) Haitec secondary reducer with Italian technology, low noise, stable and reliable operation. The top of the ice machine is equipped with heat dissipation holes and fans to ensure that the reducer motor can operate reliably under high temperature and harsh conditions.

7) The line chamber septum ice-making evaporator adopting patented technology has high refrigeration efficiency and large ice production.

8) Spiral hob squeeze type ice making type, compact structure, automatic separation of ice and water. The optimized design of the blade of the ice blade makes the ice shape small and practical.

9) The unique water tank float inlet system ensures that there is no residual water, no de-icing process, no water loss, no residual water, water saving and energy saving.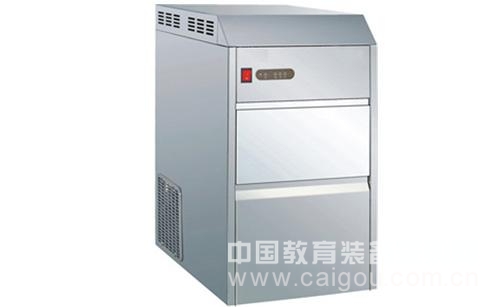 10) There are protective shutdown functions such as ice full display, water shortage display, overcooling protection display, fault warning display and so on. The ice machine will automatically stop when the ice is full of water, and it will automatically turn on when there is a call or water, with automatic memory recovery function.

11) The ice produced is an indefinite and fine-grained snowflake crushed ice, the ice shape is small, can penetrate into a narrow gap, the cooling speed is fast, the ice bath effect is good, specially designed for the laboratory.

12) The front part is equipped with a power switch and a function indicator, thoughtful and detailed operation instructions, intuitive and convenient to use, and all safety indicators have passed the electrical performance test, which is safe and secure.

13) The ice making performance testing and debugging for a long time before leaving the factory ensure the excellent performance of the product.

14) Snowflake ice is widely used in hospitals, schools, laboratories, scientific research institutes and other occasions as well as supermarket food preservation, fishery fishing and refrigeration, medical applications, chemical industry, food processing and other industries, with a wide range of applications.

Space-saving design double-spiral extrusion ice-making method, ice-making machine compact structure, small size, reducing laboratory space occupation.

Unique ice making system professionally designed freezing circuit, control system and various mechanism components, efficient ice making, easy to use.

Snowflake mechanism ice mode: ice cubes can be obtained after 15 minutes, the ice cubes are crystal clear; the ice shape is square, regular and uniform, beautiful and elegant; low temperature ice making, dense icing, not easy to melt, refreshing taste.

Microcomputer control technology: the water supply, ice making and de-icing processes are all completed automatically; at the same time, the system operation can be optimized according to different environmental temperatures; the photoelectric control technology automatically shuts down when the ice is full, and automatically turns on after removing the ice block. Malfunction due to ambient temperature.

System automatic fault detection function: automatically enter the corresponding error correction mode according to different fault types to ensure the stable and reliable operation of the machine.

The world's advanced refrigeration technology: the use of world-famous compressors can be used R22, R404a and other refrigerants for refrigeration.

Luxurious appearance and beautiful appearance: adopt all stainless steel shell, 45 ° large slope design, easy and convenient to take ice.

Unique cleaning mode: the user can activate the automatic cleaning function as needed to clean the water circulation system at any time; the residual water draining mechanism protected by the national patent ensures that the machine and ice cubes are clean and hygienic.

Excellent performance and stability: the use of world-famous host, forced air cooling, optimized cooling system design; polyurethane foam insulation, long storage time of ice.

Shanghai Haozhuang Instrument Co., Ltd. is a variety of biochemical, light incubator, shaking incubator, constant temperature incubator, mold incubator, hot and cold cycler, shaker, oscillator, stirrer, water bath, centrifuge, electric heating plate. Professional manufacturing enterprise. Relying on modern science and technology, the company continuously improves product quality and launches new products to keep it up to the international level. The products are exported to all parts of the country, and have won the trust of users with excellent quality and perfect service.

This is a very practical tool, and it is also the main core of Roller Brush.
It can be disassembled and assembled on the roller brush.
Its material determines different uses. It is suitable for rough walls, smooth walls, and different paints.
Its size is also very rich: 2, 4, 6, 7, 9,, and 10". If you need to customize, we can meet.
Production process: cloth cutting, cloth glue bonding, perfusion, cloth and the inner pipe fitting, size cut, carding, chamfering, molding packaging.
Product advantages: glue is sufficient, not falling off, the tube is very tough, not easy to damage (experiment proved that you can load an adult weight, about 70kg), draw paint amount is enough, easy to brush more.

Polyester Paint Roller,Double Color Paint Roller,Mini Roller Cover,Wool Roller Covers

Zhenjiang Yongjiufa brush industry Co. Ltd. , https://www.yongfa-brushs.com