After the development of 3D printing technology , more and more people like to use privately-designed methods to design a unique gift from the world to their loved ones, which is both fashionable and memorable.

In this world, as long as there is a father, there is a cool father. And the Australian maker Tez Gelmir took the cool dad index to a new level. For the first birthday of her lovely daughter, the "Star Wars" fan decided to create a unique Trojan as a gift. The shape of this Trojan is based on the flight that appeared in "Star Wars: The Return of the Jedi" released in 1983. Motorcycle.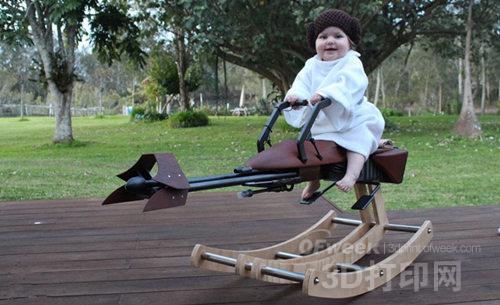 Undoubtedly, such a project is also a huge test for Gelmir's DIY skills, because this flying motorcycle requires a lot of 3D modeling , 3D printing , woodworking, sewing, painting and electronic wiring work. It took a few weeks for a 3D printed part to take part, and most of the parts took a dozen hours to print. Then you need to cut the plywood into a variety of shapes and smooth it to avoid tying his little baby. Fortunately, Gelmir recorded the entire project's production process at the DIY heat station Instructables.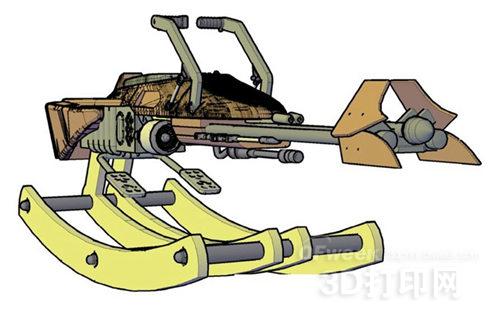 "The shape of this flying motorcycle is based on the high-quality picture that I contracted on the network, and then scaled up the model, and adjusted according to the requirements of a Trojan. My first consideration is the robustness and stability of this toy. And can guarantee the safety of the little ones. Although this project is made for my 1 year old baby, I still have a 5 year old child, and he will undoubtedly play this Trojan often. So, this toy is the most The important requirement is resistance to tossing. I used sturdy plywood to reinforce the top seat, which also brought great convenience to the installation of the handles and legs," Gelmir explained.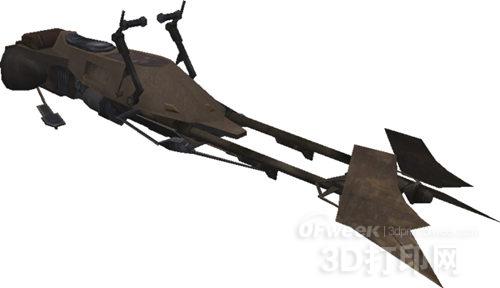 All materials chosen by Gelmir are based on the principles of cheapness and ease of use. So if you want to copy one, it's easy to do it. For example, Gelmir chose plywood because it is relatively inexpensive, and its performance is not worse than wood. The most important thing is that it is easy to cut. Gelmir provides printable templates on Instructables that make it easy to cut into the desired shape. It is convenient to use 3D printing to make some round parts and all the small parts on the flying motorcycle. In addition, he used some PVC pipes and some screws and bolts to assemble all the parts together.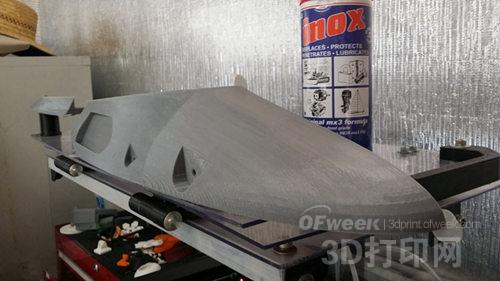 These 3D printing components, including the main hull and engine details, were printed by Gelmir using a Makerbot Replicator 2 3D printer . Since he had to paint, he chose to set a print layer height of 0.3 mm and a fill rate of 10%. Most of the printing components do not use support structures or mattresses, but the curved area of ​​the main hull portion requires several supports.

After all the wood parts and 3D printing parts were completed, Gelmir finely sanded them and assembled them. It was not finished yet, and Gelmir had painted it several times and installed a real upholstered seat. In addition, this Trojan also includes many interesting little details, such as power battery turbines. Gelmir also carefully added sound and light effects.

Material selection: Panel-China high-quality spruce, which produced in Xinjiang and Northeast; Bottom plate-China high-quality maple, which produced in Yunnan and Sichuan. The material has been air-dried for more than 5 years.

Production: Personally supervised by Wang Jintang , all handmade by luthiers with more than 5 years of experience.

Violin paint: Semi-oily semi-alcohol paint or oily paint (customizable)

Middle Grade Viola,Powerful Tone Contemporary Viola,Professional Varnish Advanced Viola,Handmade Brown Color Viola

Queshan Wahyo Violin Ltd , https://www.wahyoviolin.com