Reinforced wood flooring is also known as impregnated paper laminate wood flooring. It is made of one or more layers of special paper impregnated with thermosetting amino resin, and then paved on the surface layer of artificial board substrates such as particleboard and high-density fiberboard. The floor is made of heat-pressed floor with abrasion-resistant layer on the front. It has the characteristics of wear resistance, moisture resistance, rich styles and impact resistance, and can be used for the installation of floor heating. Although this kind of floor has many benefits, because there is a large amount of adhesive inside, the formaldehyde content is very easy to exceed the standard, so this needs to be paid attention to when selecting laminate flooring .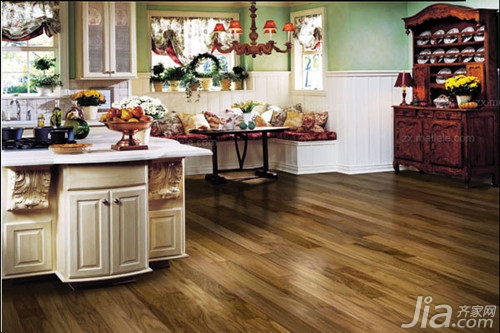 1. How about laminate flooring

From the structural analysis, the surface layer of the reinforced wood floor is covered with aluminum oxide or silicon carbide finely on the surface of the decorative layer, so the surface can be durable and has good wear resistance, and the more its content, the surface The greater the wear resistance. The decorative layer of laminate flooring is printed by a layer of printing paper through computer simulation technology. It has rich patterns, including concave and convex, pearl, wood and stone inlays, which has a strong decorative effect.

The base material of laminate flooring is generally high-density fiberboard and particle board. Usually, fast-growing wood such as pine and poplar is used as the main raw material. The quality of the base directly determines the quality of laminate flooring. From the environmental protection point of view, thin is better than thick. Because it is thin, less glue is used per unit area. Thick, the density is not as high as thin, the impact resistance is almost, but the foot feels slightly better. In fact, the difference is not significant.

The balance layer of laminate flooring is the key to determine its moisture-proof effect. It uses veneer or pressboard with a thickness approximately equal to the wear-resistant layer and decorative layer, which can effectively stabilize the product size, and has a moisture-proof effect, so that the floor can be evenly stressed during processing and use.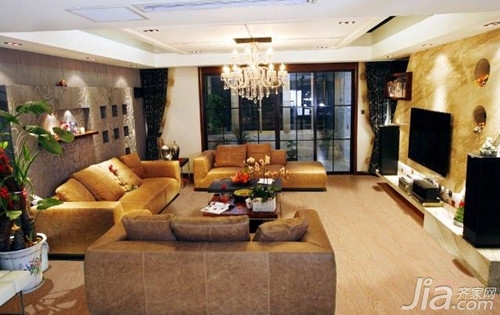 Second, the latest ten brands of laminate flooring:

Ten brands of laminate flooring first: Shengxiang flooring

Shengxiang Flooring has many honors such as China Well-known Trademark, China Famous Brand, National Exemption Inspection, China Environmental Label Certification and so on. In the future, Shengxiang Group will continue to maintain the status of the first brand of wooden flooring in China. At the same time, Shengxiang Group will gradually launch the "related diversification strategy" and gradually enter other home building materials products to provide overall solutions.

Ten brands of laminate flooring second: Fillinger flooring

Fillinger has a perfect and sound sales system. The 1,200 agents and distributors established throughout the country allow consumers to purchase nearby. In order to provide consumers with truly high-quality services, the company provides professional installation and after-sales service training to distributors around the world. Striving to achieve Fillinger not only has first-class product quality, but also professional installation and service technology. Under the leadership of the company's senior management, all employees adhere to the prudent and rigorous business philosophy and long-term development business goals, believe in teamwork and honest and trustworthy management concepts, and strive towards the goal of customer satisfaction.

Ten brands of laminate flooring fourth: Kendia floor

Since its establishment, Kendia has been adhering to the business philosophy of "integrating world resources, creating Chinese brands, and bringing Chinese brands to the world." With its excellent product quality, leading environmental indicators, synchronized specifications and styles, and strict standard installation After-sales service has been recognized by consumers from all walks of life, and sales have risen rapidly. Kendia laminate flooring is one of the famous brands in the Chinese wood flooring industry.

Ten brands of laminate flooring fifth: Bayer flooring

The company was established in September 2000. It is a large-scale professional enterprise specializing in the production and sale of solid wood flooring, solid wood composite flooring and laminate flooring. It has established R & D centers and production bases in Beijing, Wuhan, Nanxun and other places. From well-known enterprises at home and abroad, it is the representative of the most advanced production technology in China's flooring industry. With an annual production capacity of 15 million square meters, Bayer Wood has become one of the strongest floor production enterprises in the central and southern regions.

Tenth brand of laminate flooring sixth: Chunzhou Wood

Chunzhou Wood Industry Co., Ltd. has developed into a global enterprise specializing in the production and sale of laminate flooring and related products with scientific research and development as its core. The company covers an area of ​​more than 50,000 square meters, with total assets of nearly 250 million Hong Kong dollars, all of which use the most advanced production equipment in Germany, with an annual production capacity of more than 12 million square meters, nearly 150 product designs, and all indicators have reached the world's leading level , Business scope covers more than 100 countries and regions.

Tenth Top Ten Brands of Laminate Flooring: Reassuring Flooring

Anxin flooring is the only domestic top ten flooring brand that has obtained the German health flooring patent. The relief flooring created by 14 patented technologies has superior wear resistance than imported flooring. Years of experience in wood flooring manufacturing, peers know more about flooring, Anxin flooring serves more than 1.5 million customers with its own solid wood flooring, solid wood multilayer wood flooring, and laminate flooring. Anxin flooring understands consumer needs better than its peers. The patented technology of healthy floor for the floor guarantees that the consumers are using environmentally friendly wooden floor. The wooden floor super wear-resistant technology for the relief floor ensures that the service floor of the customer service lasts longer than others.

Eighth of the top ten brands of laminate flooring: Ouxiang Wansheng Wood

Jiangsu Ouxiang Wansheng Wood Industry Co., Ltd., one of the leading enterprises in China's laminate flooring capital, after ten years of continuous development, Ouxiang invested nearly 120 million yuan in China's laminate flooring capital to establish a production base, covering an area of ​​100,000 The annual production capacity of the production base can reach 8 million square meters. Introduce the world's most advanced Haomai floor production line, and reach strategic partnerships with world-class manufacturers such as IP (Inteprete), MEAD, Sudek, Lance, and Daya. The world-class hardware facilities provide Ouxiang with a strong quality backing.

Ten brands of laminate flooring ninth: Shengka flooring

Jiangsu Sensen Wood Industry Co., Ltd. is a large domestic flooring enterprise integrating R & D, production and sales of wood flooring, with an annual production capacity of 7 million square meters. The company introduces the world's most advanced production equipment and the latest international technology, and keeps in step with the international cutting-edge technology according to the production mode of professional division of labor. The international operation has made the company's brand "Sangka" deeply popular.

Tenth brand of laminate flooring tenth: Del flooring

DER Del Group is the world's leading professional wooden flooring manufacturer. It is a home improvement and public decoration flooring supplier for the Beijing Paralympic Games in 2008. Over the years, it has been committed to providing global consumers with green, environmentally friendly, technology-leading home products and the most cutting-edge home experience. . The total registered capital of the group is 160 million yuan. The industry covers flooring, research and development, real estate, chain, communication, logistics, education, investment and other fields. The group's headquarters is located in the historical and cultural city Suzhou.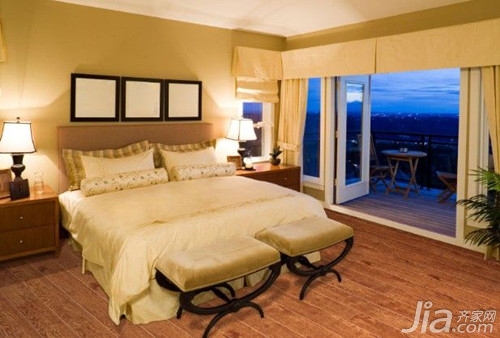 3. How to buy laminate flooring

1. Look at environmental protection

For laminate flooring, the environmental protection is the first factor consumers consider when purchasing, and the environmental protection index of the floor mainly comes from the amount of formaldehyde released. The most direct way to distinguish the environmental protection is to smell. Use a screwdriver and a hammer to pry the floor away from the place of the lock, expose a large area of ​​the base material of the floor, and then smell it. A good laminate floor should have the smell of wood, and a poor quality will have a strong pungent odor.

2. Look at the quality

Laminate flooring is a kind of artificial board. Many people think that the higher the density of the artificial board, the better, but this is not the case. A good floor must be made of natural materials, and the density must be moderate. Too high a density has a high water absorption expansion rate, which can easily cause dimensional changes and cause floor deformation. When purchasing a floor, you can also judge whether the quality is good or not from the quality inspection certificate of the product, whether it has reached the national inspection-free standard and certification certificate, and these certifications are an indicator to measure the quality of the product.

3. Look at the service

After the installation of the floor, there will always be some problems of deformation, warping, and cracking. Many reasons are caused by improper installation. Therefore, whether the service is professional will also affect the performance of the product. When purchasing laminate flooring, it is necessary to understand the manufacturer's installation service quality in detail and then consider it comprehensively.

Editor's summary: These laminate flooring brands are very famous laminate flooring brands in the laminate flooring industry. The laminate flooring of these brands are the leading brands in the industry, and the quality is guaranteed. For consumers who do not understand flooring It is also safe to choose. In the current building materials market, there are many businesses that raise their prices in order to seek their own self-interest. Everyone must be familiar with the market before buying building materials to avoid being deceived.

What, the decoration still uses his own money? ! The Qi family is decorated in installments, with an ultra-low annual interest rate of 3.55% and a maximum loan of 1 million. Apply now to enjoy the discount

If you are interested in brand cooperation, content cooperation, and advertising of this website, please send an email to :.

Floor wood floor laminate floor floor to buy home improvement home

Trigger Sprayer with various size and color available and standard trigger handle and cover option,with a variety of spray nozzle available to spray liquid inside the bottle,for usage of personal care health and liquid cleaner for example of household chemical bottle such as glass cleaning,toilet liquid cleaning and household cleaing products.,Its application range is very wide.The nozzle can be adjusted to create a fine spray or jet stream for dispensing liquids. It's with good design and prevent liquid leakage,can control spray liquid's volume with good spray efforts.


Trigger Sprayer,28mm 28/410 Trigger Sprayer,28mm 28/400 Trigger Sprayer,Boom Sprayerjet Trigger Sprayersgarden Sprayer

NINGBO LONGTERM INTERNATIONAL TRADE CORP.,LIMTED , https://www.nblongterm.com