Soft furniture mainly refers to furniture made mainly of sponge and fabric. Soft furniture belongs to a kind of furniture, including leisure fabric, leather, imitation leather, leather plus cloth sofa, soft bed, soft furniture furniture manufacturing process mainly depends on manual crafts, the main process includes nail inner frame, hit Base fabric, sticky sponge, cut, car jacket to the final completion process. Now let me explain the classification and characteristics of software furniture and the precautions for purchase.

Upholstered furniture usually refers to sofas and beds. The sofa is divided into the following four categories:

(1) The American sofa , the biggest charm of the American sofa is very soft and comfortable, letting people sit and feel like being embraced gently. Many sofas are currently made of frames with different hardness sponges. Many American sofa seats are still designed with springs and sponges, which makes the sofa very durable. Before buying this kind of sofa, you must measure the living room area. Generally speaking, only the large living room of 20 square meters or more can consider buying such a sofa.

(2) Japanese-style sofas , the biggest feature of Japanese-style sofas is its small fence-shaped handrails and short design. Such a sofa is best suited to people who admire the natural and simple home style. The compact Japanese-style sofa reveals a rigorous attitude towards life. Therefore, Japanese-style sofas are often used by some office spaces. This type of sofa is also suitable for the elderly . Because for some elderly people who have difficulty in walking and sitting, the hard Japanese sofa makes them feel more comfortable and it is more convenient to sit up.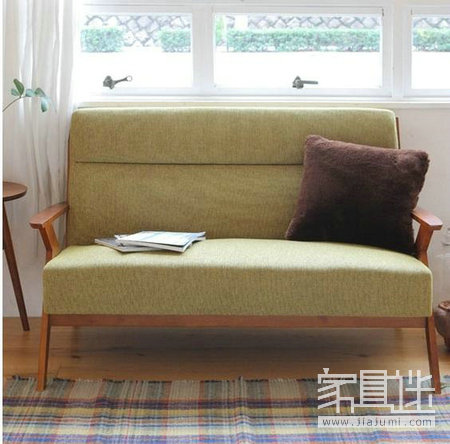 Japanese sofa

(3) The Chinese-style sofa , the Chinese-style sofa is characterized by the entire exposed solid wood frame. The upper sponge cushion can be replaced as needed. This flexible way makes Chinese sofas popular with many people; it is cool in winter and cool in summer, convenient and practical.

(4) Modern and avant-garde European-style sofas , European-style sofas with modern styles are mostly elegant in color and simple in line, suitable for general household selection. This kind of sofa is also suitable for a wide range of applications, and it feels good to be placed in various styles of living rooms. Popular in recent years are light-colored sofas: white rice, beige, etc. The sofa is divided into fabric sofas, leather sofas, leather sofas, etc. according to different materials.

Beds, which are common in the market, have bed sets and mattresses. In fact, the beds are mainly for mattresses. Nowadays, mattresses are more and more focused on comfort and practicality. The main components are springs, sponges and outer fabrics. At present, the mattresses on the market are uneven, there are several hundred yuan, and there are also tens of thousands of yuan.

Soft furniture is a kind of furniture, including leisure fabrics, leather, imitation leather, leather sofas, soft beds. A type of furniture that is more detailed in modern furniture classification. The manufacturing process of soft furniture mainly relies on manual craftsmanship. The main processes include nail inner frame, base cloth, sticky sponge, cutting, and car jacket to the final completion process. At present, the software and furniture industry has formed a large production base in Chengdu, Guangdong and other places in China.

Pay attention to the following aspects when purchasing upholstered furniture:

1. Pay special attention to the materials used in frames, cushions and fabrics when choosing soft furniture. For example, the leather sofa must be clearly marked in the contract as a full leather, half leather or thick leather sofa, so as to avoid the salesperson posing as a full leather sofa with a half leather sofa. At present, it is more common to use hardwood (eucalyptus, eucalyptus, ash, birch, etc.) in the frame part. The connecting part is better than the screw connection structure; the sponge used in the seat should pay attention to the standard, density. The higher the better, in addition, the resilience of the sponge is better; the strength of the fabric is better, the fabric with high strength is not suitable for drawing, and the leather surface will not be slack.

2, pay attention to the firmness of the furniture structure. If you buy a sofa, you can use your hand to move the diagonal part inward. If there is a sway or a squeaking sound, the structure is not firm.

3. Check whether the internal structure of the sofa or bed (mat) has mildew or insects; observe whether the furniture cushion meets the requirements of the industry standard and the number of layers and health indicators.

4, buy a mattress to pay attention to the strength of the spring, the material and fabric. The strength of the spring depends on the steel number used for the steel wire. The higher the steel number, the better. The better material is manganese steel. The filled material is cotton felt (or chemical fiber felt) and brown sheet. The cotton felt has good gas permeability and chemical fiber felt. The strength of the fabric is better; the fabric is better selected for the treatment of mites.

5, the order must be specified in the material (full leather, half leather), sample color number and other content, pay attention to understand whether the sofa cover, Bed Cover fabric fabric can be washed or dry clean, in case of disputes can be found. It is necessary to pay attention to whether there are leaks or missing nails in the joints of the fabrics. Some fabric sofa covers are easily shrunk and deformed after washing.

If you are finding a reliable beauty and salon equipment manufacturer, please contact with us. We would provide the best quality beauty and salon products with competitive price to you.

We export in beauty and salon equipment has more than ten years of experience. We are a leading manufacturer, we export to abroad as follow:

Electric Facial Bed, Hydraulic Facial Bed, wood Facial Bed , Massage Table, facial bed, facial massage chair, Shampoo Chair , Barber Chair , styling chair, child chair, waiting chair, dressing mirror, reception table, pedicure spa, Nail Table , massage chair, master chair, kids salon equipment,kids barber chair,trolley, bed cover, footstep and cushion.

Salon Child Chair,Kids Salon Chair,Mini Salon Child Chair,Children Chair With Rolling Wheels

ChaoHui Beauty Salon Equipment Co., Ltd. , https://www.facialbed.nl