Plastic cups are popular with many people, especially children, adolescents, and activists. Because plastic cups have a variety of materials, the use of plastic products with poor safety levels can cause safety problems for long-term use.

Because plastic cups have the advantages of various shapes, bright colors, low prices, and non-breakable, they are deeply loved by the public. Most plastic cups (such as space cups) that are now available on the market are made of polycarbonate (PC), which is one of the main raw materials for producing polycarbonate plastics.

When choosing a plastic cup, you should pay attention to two points: First, look at the production license, and second, look at the plastic recycling mark. Production licenses are proof that the state allows companies to produce related products and that their products meet relevant safety requirements. The plastic recycling mark marks the basic material of the plastic, generally located at the bottom of the plastic product. It is a triangle with several numbers ranging from 1 to 7 to indicate different materials. If there is a "7" or "58" in the middle of the triangle and a PC is written below, the product may contain "bisphenol A".

If there is a cup of PC material in your hand, how can you reduce the risk? Before using for the first time, wash with baking soda powder and warm water, and dry naturally at room temperature, because the bisphenol A will be released when it is used for the first time. many. Avoid heating during subsequent use. Do not use a dishwasher or a dishwasher. Do not expose it to direct sunlight for long periods of time. Do not use hot water or tea. If the container has any broken or broken, it is recommended to stop using it, because if there are tiny pits on the surface of the plastic product, bacteria can be easily hidden. At the same time to avoid repeated use of aging plastic appliances.

Drinking glasses is still the preferred glass, ceramic or stainless steel cup. If you really want to use plastic cups for tea or hot water, it is best to choose a colorless plastic triangle with a "5" mark in the middle. This material is PP. The name of the plastic component is polypropylene, which can withstand high temperatures above 100 degrees. It is also harmless to the human body.

Face to face Standing Desk is a new bench system of affordable electric height adjustable sit-stand desks for the office. Evolve allows you to simply and easily configure your office from two desks up to as many as you need.By using a shared frame, incorporating full cable management and screen, we now have a system of height adjustable desks for your office, previously unavailable at this price.Choose from a wide range of desk sizes, finishes and screens. As ever, we can help with your space planning to ensure that you make the most of your office space, while ensuring that your staff are not only comfortable and productive, but healthy too.With the proven health and productivity benefits of height adjustable desks now more compelling than ever, DeskRite Evolve is an easy choice for you and your business. Choose Evolve to begin building an active working culture in your office.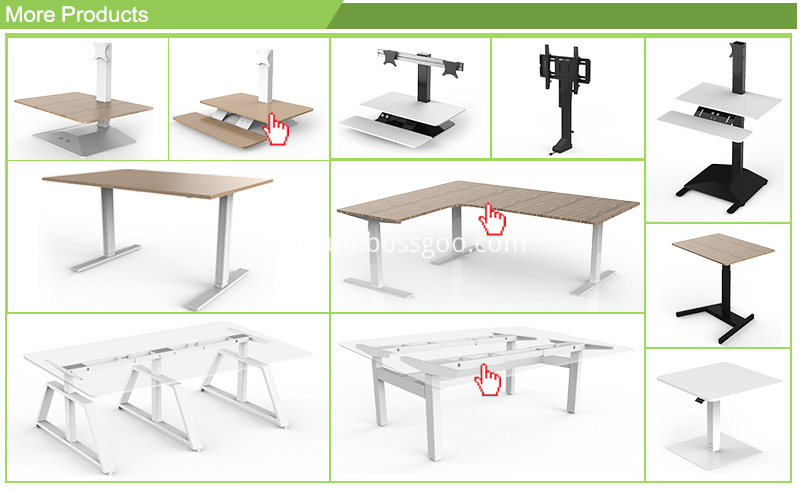 CONTUO have One Leg Standing Desk ,Two Legs Standing Desk,Three Legs Standing Desk,Four Legs Standing Desk etc-So Customers here to choose correct office desk to be used for different space, CONTUO People will recommend most suitable machines to customers. We like to exchange ideas with customers, only this we can know what customers need, what the markets accept. Then CONTUO cankeep moving with the market. So Electric Height Adjustable Desk can sell well in the world market.

Four Legs Standing Desk
Four Legs Standing Desk,Standing Computer Desk,Motorized Office Desk,Height Adjustable Study Table
Shaoxing contuo Transmission Technology Co.,Ltd , https://www.electricdesk.nl