Strictly speaking, Chinese classical furniture refers only to old-style furniture with collectible value, mainly the furniture of the Ming and Qing Dynasties. This is also the peak of traditional Chinese furniture production. However, such furniture is basically in the hands of museums and collectors, and it is rare for folks. At present, most of the antique furniture in the Ming and Qing Dynasties is used in the market. Some of them use the material of classical mahogany furniture, and the design remains basically the same. In the process, the traditional enamel structure of mahogany furniture is also inherited. And some go very far, adding a lot of modern elements in materials and design, only retaining the simple and soothing mood of Chinese classical furniture.

Mahogany furniture fine-grained material appreciation style

In the furniture category, mahogany furniture is not only a durable consumer, but also a luxury. The real mahogany furniture material uses five categories and eight categories in the national standard of "Redwood". The style is mainly composed of Ming and Qing classic styles. The style is represented by palace furniture, mainly using carvings, enamels, inlays, curves, etc. made by Chinese furniture. Traditional crafts, without any nails and adhesives.

Hainan huanghuali, Vietnamese huanghuali, lobular rosewood and Burmese chicken wing wood in Chinese traditional mahogany furniture are almost extinct, even the price of Laos red rosewood (also known as Siamese rosewood, Sian rosewood) has skyrocketed in recent years.

Buy mahogany furniture, do not blindly compare prices, first of all to determine whether the five categories of eight types of wood , but also look at the size, rareness, crafts and so on. When you buy, you should also look at its artistic style. You should choose a product that is " rich and not vulgar, gorgeous but not excessive, dignified and not staying ".

On the level of material and the level of design, the new brands of mahogany furniture, such as Jinshanghong and Mingyiyun, are favored by mahogany fans. But to talk about the price, even the old manufacturers such as Tianhong and Zibotang deservedly deserved.

It is not uncommon for mahogany furniture to be undercharged and fake. There are many flowers, non-flowers and sandalwoods, and consumers pay more attention to them.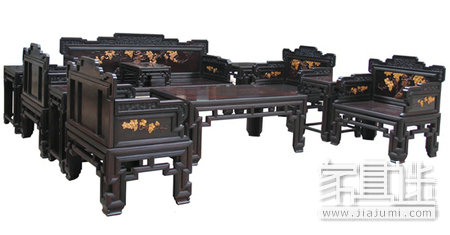 Original design of original ecological furniture shows vitality

The wood furniture, which is mainly made of logs, retains the original wood color, which maintains both natural color and pastoral atmosphere. Using logs to make objects in the home is a great genre for the home to return to the original ecology.

Some of the original ecological furniture is a new product made by Laomu, which can be regarded as a series of original Chinese design. At the beginning, it was just a small tributary, which was said to be a small part of the urban people's dream about the jungle or nature. The most common on the market are old elm, old elm, old boat wood furniture, traditional enamel structure, all handmade, cracks, scars, used traces, and even bark.

Don't think that the original eco-furniture is the kind of stupid guy. In fact, the biggest selling point of the original eco-furniture is the original design . In the Guangzhou market, the furniture of Wujinmu and Zhangmu began to increase, and the overall style tends to be natural and original. The shape shows the texture of the wood itself, allowing people to feel the magic and beauty from nature from the bottom of their hearts.

There are many ancient wooden furniture brands, and there are many backstreets in the Panyu Jisheng Weibang Furniture Museum, but the quality of the products is uneven. In the past, the wooden furniture of the ship showed more historical vicissitudes, but now there have been carvings, and some of the original ecological tastes have been lost.

There are many old elm furniture, and the more famous one is Pu Fengtang, which basically retains the original taste of the old elm. A modern conceptist, the design blends the luxury and romance of Western culture without losing the restraint and elegance of Eastern culture. The most commonly used material for Jimei's furniture is eucalyptus, which can be seen at a glance, but there are many modern elements in the matching and design of fabric and leather. Combine comfort and tasting while showing the beautiful lines of coffin.

There are two or three homes in Wujinmu, but the design is better. The overall style has oriental charm. The shape shows the texture of Wujinmu itself. The modern materials such as rubber bands, leather, glass and steel noose are used to make people feel at heart. Deep feeling the magic and beauty from nature.

Stainless steel Apple Corer removes pesky cores in seconds. It's great for apples, pears and other hard fruits. Sharp blade slices closely to cores, which helps to reduce the amount of fruit that goes to waste and leaves you with more to enjoy. It`s great for coring fruit to enjoy as a healthy snack. Or for quickly preparing lots of fruit to make pie fillings, sauces or jams. Like all Kitchen Craft Professional tools, it`s designed to be sturdy, simple and comfortable to use.

Apple Corer

Apple Corer,Home use Apple Corer,Stainless Steel Apple Slicer,Plastic Handle Fruit Corer

Yangjiang Superwins Trade Co., Ltd. , https://www.steelkitchenware.nl